It's the biggest Super Bowl ever! If you're getting ready for the Super Bowl 50 trip of a lifetime you don't want to leave your stuff behind. To help you make sure you didn't forget anything, we made a quick checklist to keep you updated.
Your Phone
Bring it with you to the game fully charged. Maybe even think about bringing a charger cord with you. It's your ticket to the world. You're going to want to take a lot of photos, and that takes a lot of battery power. Some people invest in back-up batteries. Just saying. Consider turning on your "Find My Phone" app because you might forget about it in all the excitement.
Tickets
It's obvious. We know. But, if you're going to the game, you're going to need Super Bowl 2016 tickets. Yes, don't forget that even though it's the 2015 NFL season, it will be the 2016 Super Bowl. This less confusing now that's it 2016, but it's still a bit hard to keep track of. Make sure you know where your tickets are physically located. Are they in your carry-on? Your luggage?  Pieces of paper fall out of your back pockets all the time!
Jerseys
Show your support in color. Even if your team already lost, you have to support one squad over the other. Unless you're going to the Super Bowl just for the halftime show. If that's the case, all you need to bring into the stadium is your phone, so you can take selfies. Because you, Queen Bey and Coldplay make for great Facebook posts.
Stadium Bag

They're upping security at the game. Levi's stadium uses the clear-bag policy. So, there are things you can't bring to the game. Don't bring big backpacks, don't bring anything stupid. Security will be tight! Also, no fanny packs. That one is important. We know you want to be stylish, but the guards won't allow them in. The stadium also won't allow alcohol, fireworks, beach balls, beverages, or noisemakers. Good info to have on hand. Full details on what you can bring into the stadium can be found here.

Great Gear
If the Green Bay Packers make it to the Super Bowl, fans already know what to wear on their heads. But if they don't, you're going to have get creative. Great costumes are always fun to see on camera. Don't bring something too big otherwise the people sitting behind you won't be able to see! Or take off your hat and put it under your seat.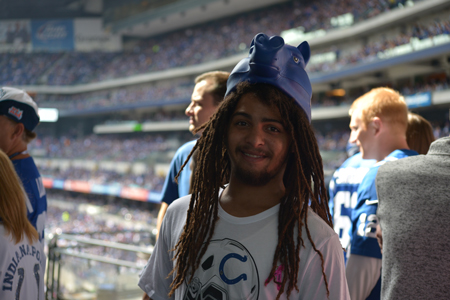 We're taking this moment to say, don't bring face paint. It melts. It gets gross. You forget it's there and it smears. You can go for the traditional two black stripes on the cheeks. But anything more and you'll end up with blue paint on your hot dog. Unless that's your thing, then go for it.
Manners
Bring your manners. There will be thousands of people in the Bay Area, most will be tourists. It's going to get hectic, and crazy. Take a breath. Try to make friends with the cool couple sitting next to you in the stadium while you're waiting for the game to start. Or at the very least, don't be rude.
Excitement
Bring the hype! You're going to the biggest, baddest, best sports event of the year! Be excited! Be obnoxious on social media, and tell all your friends you're going to the Super Booooowwwwwlll! You're watching history!
Other Good Travelers
Don't discount this last item on our list.  Bring a calm person. It might be slightly unconventional advice, but it's solid advice. Find a good traveler who will stay sane under pressure. You'll be spending a lot of time next to each other during the day. Make sure your friend is good at working out logistics, and good at having fun. All your pictures you're going to show your grand kids will have whoever you're sitting next to in them as well, so maybe he or she should be good looking too.
Hopefully this helped get all your stuff together! Or at least you've written out a good list on the back of a post-it you won't be able to find in two weeks. Now, who's ready for Super Bowl 2016? The game is Sunday, Super Bowl Sunday of course, February 7th in Levi's Stadium right in Santa Clara, California. Security will allow people to enter the stadium starting at 11:00 a.m. That seems a little early to us, but football fans like to start the party early!  By then we won't even have eaten a good Santa Clara brunch.
But, wait, if you don't have Super Bowl 50 tickets yet, and you still want to go, we can help! We have great Super Bowl 50 ticket packages still up for sale! Part of that package includes entrance into the Players Super Bowl Tailgate with celebrity chef Guy Fieri and hosted Erin Andrews! We'd love to see you there!