The 2020 Players Tailgate at Super Bowl 54
February 2, 2020 2:00 p.m. – kickoff
Get ready for the ultimate tailgate experience at Super Bowl LIV in 2020!
Here's a look at last year's tailgate in Atlanta:
About the Tailgate:
Bullseye Event Group's exclusive Players Tailgate at the Super Bowl has earned the reputation as the best Super Bowl pre-game experience, where over 25 active NFL players, celebrities and guests eat, drink and get entertained before the big game. Described as a culinary experience in itself, The Players Tailgate features an OPEN premium bar and ALL-YOU-CAN-EAT dining with gourmet dishes. The 2019 Tailgate menu was created by Celebrity Chefs Guy Fieri, Aaron May, and a host of other celebrity chefs. Not to mention Operation BBQ Relief was on hand serving awesome barbecue!
Guests enjoy an indoor/outdoor pavilion lined with private tables and an abundance of soft white leather furniture where you can watch ESPN's pre-game coverage broadcast on large LED monitors. It is an amazing experience for football fans young and old! This is an all-ages event! When it's time for the Super Bowl Sunday there isn't a better option than the Players Tailgate. Not to mention you are as close to the main security entrance as we can get.
The Food:
Guy Fieri, the most recognizable Chef in America, will be creating an exclusive all-you-can-eat menu for The Players Tailgate attendees again in Houston for the 2017 Super Bowl.
Guy Fieri can be seen on television almost every day on the Food Network. His shows include Diners, Drive-Ins and Dives, Guy's Big Bite, Guy Off the Hook, Dinner: Impossible, Guy's Grocery Games, Rachael vs. Guy: Celebrity Cook-Off, The Next Food Network Star, Ultimate Recipe Showdown, The Best Thing I Ever Ate and Minute to Win It, just to name a few.
Chef Aaron May is a top chef in America can prepare an incredible meal for 2 to 200 people, in order to considered one of the best caterers in America you need to be able to create a meal for 2200 and have it as good as that meal for 2 to 200. That is why Aaron May is considered the BEST caterer in the US.
Chef May is classically trained in Paris at the Ecole Ritz Escoffier and is inducted into the Arizona Culinary Hall of Fame in 2010 as a "Chef Extraordinaire." He has been featured on Food Network's wildly popular Diners, Drive-Ins and Dives and TLC's Best Food Ever. His fiercely loyal fan base has recognized him with many local awards, including "Best Tapas" and "Best Speakeasy," and he has also garnered attention from national publications such as Food & Wine, Condé Nast Traveler, Sunset Magazine and USA Today.
The Venue:
2019 Players Tailgate venue for Super Bowl LIII
The 2017 venue for The Players Tailgate at Super Bowl LIII was in a prime location located only 3 blocks from the entrance to the Super Bowl at Mercedes Benz Stadium. Bullseye Event Group transformed Pemberton Place into one of the hottest pre-game VIP parties.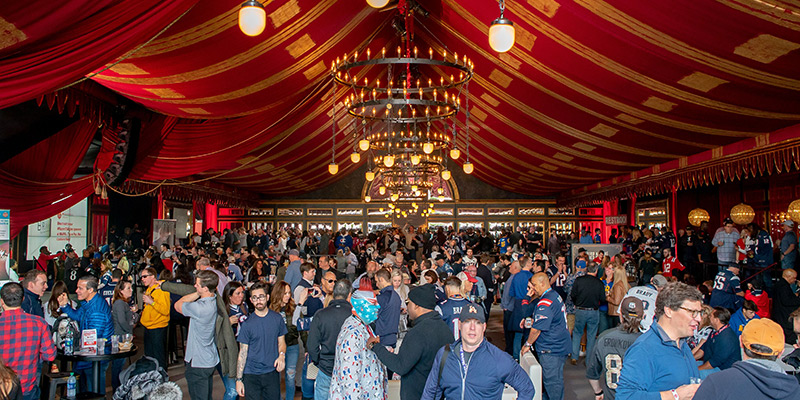 2019 SB LIII Players Tailgate Emcee:
Sage Steele, ESPN