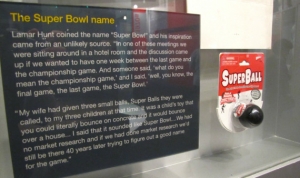 The "Super Ball" at the Hall of Fame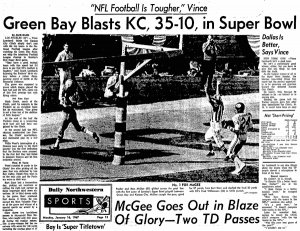 The first Super Bowl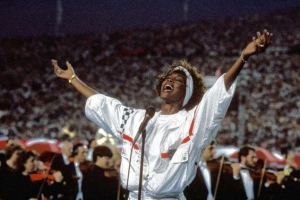 Whitney Houston, 1991 Super Bowl
Super Bowl XLVIII in New York
A Brief History of the Super Bowl
The Super Bowl has come to be somewhat of a holiday in the United States. This is the annual championship game of the National Football League and is watched by millions of people every year.
The term "Super Bowl" came from a child's toy, a "super ball". The then owner of the Kansas City Chiefs, Lamar Hunt, joking called the big game the "Super Bowl" in the merger meetings. He admitted that the name popped into his head due to a super ball his children has been playing with. It is also said that the word "ball" turned to "bowl" because of the "bowl games" that were played at the college football level.
To this day, you can see a vintage example of the toy ball at the Pro Football Hall of Fame in Canton, Ohio.
Also symbolic is the trophy awarded after the clock runs out every year. After every Super Bowl, the winning team is awarded the Vince Lombardi Trophy. Vince Lombardi was the coach of the Green Bay Packers and helped lead them to victory in the first two Super Bowls. The trophy got its name after Lombardi's passing in September 1970.
The big game is always played on a Sunday and is now referred to as "Super Bowl Sunday". Originally, the game took place in early-mid January, and has since progressed to the beginning of February.
The first ever Super Bowl game was played on January 15, 1967 where the Kansas City Chiefs and the Green Bay Packers went head to head. The packers were victorious scoring 35-10 at the Memorial Coliseum. The Pittsburg Steelers hold the record with the most Super Bowl wins with six total.
In 2014, Super Bowl XLVIII was watched by 112.2 million Americans. This was the most viewed television broadcast ever in American History. Many people don't only watch the big game just for the football, they watch it for the half time show as well. Early on, the Super Bowl half time show would normally consist of local college or high school marching bands. As the Super Bowl gained more popularity, bigger performances came about. Some of the world biggest stars have performed in the half time show such as Michael Jackson, Prince, Madonna, The Rolling Stones, Whitney Huston, and most recently, Bruno Mars.
The Super Bowl gets bigger and better every year. Whether you're a football fan or not, Super Bowl Sunday is a great day to relax with family, eat food, and enjoy a cold beer.