After 22 long weeks, the NFL's season has come to an end. But, before we slide into the offseason, we must first review the NFL's final: Super Bowl 50 in Santa Clara, California.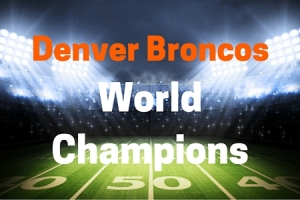 The Denver Broncos walked away as NFL champions in Super Bowl 50, defeating the Carolina Panthers 24-10. And in a season plagued by injury, Denver Broncos quarterback Peyton Manning walked away with his second Super Bowl victory, in what could be his final game of his long and decorated career.
Despite possibly being Manning's final game as a player, it was the Broncos defense that dominated the game. Broncos linebacker Von Miller, who would eventually be named Super Bowl 50 MVP, garnered six tackles, 2.5 sacks and a forced fumble, which ended up leading to the game-winning touchdown for the Broncos.
Carolina Panthers quarterback and league MVP Cam Newton, who had been incredible leading the Panthers this season to a 15-1 record, struggled in Super Bowl 50, garnering only 265 yards and one interception on 18-of-41 passing. Newton was hurried over 20 times in the game, being hit 10 times and sacked 7 times.
Following the game, it was the postgame mentions of "Budweiser" for Manning and the press conference dissatisfaction showed by Newton that stole the headlines. But one thing that cannot be taken away: the Denver Broncos are world champions, for at least the next year.
Not able to make Super Bowl 50's Players Tailgate? No worries, check out Bay Area Bites' review on how to put on the most extravagant tailgate in America!