We love everything about tailgating. Whether you're pre-gaming in style before Super Bowl 50, or if you're just chillin' out back with the guys, tailgating is a great part of being a football fan. You get to eat great food and make new friends with tailgating neighbors. It's all around a good time. But every once in a while, something goes terribly wrong. And it's usually hilarious. Check out our list of the funniest, and unfortunately common tailgating fails:
1. Leaving the Car on Fire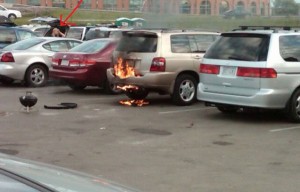 There are common things to forget, like leaving a cell phone in the car or forgetting if you closed the garage door. Setting a car on fire because you put the grill in your trunk and forgot about it during the game? That's a rough one! Even more surprising is how often it happens! Have fun explaining that one to the insurance company.
2. Terrible Dizzy Bat
If you've been enjoying the cold brews, there are a few games you should shy away from. Like say, dizzy bat. It's hard enough to spin in circles stone-cold sober. But if you want to end up on a friend's Vine, keep on trying.
3. Unique Drink Funnel
Tailgating involves a lot jerry-rigging. This guy has made a funnel out of a mega-phone. That's certainly unique. This guy is a master of pouring his own beer too. It begs the question, "where are his friends?" At some point during this guy's tailgating fun, he's also lost one glove. At least his team is having a good season, right?
4. Tricky Hammers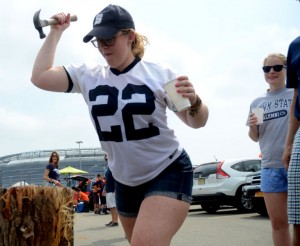 Dangerous construction tools in the hands of slightly inebriated sports fans? That's a tailgating fail. Something worse than the poor tree stump could get hurt!
5. Stripper Poles at the Game
Keep it classy when you tailgate. This. This is not classy. Inevitably there will be people on the pole who you don't want on the pole. It just starts a whole slew of issues.
6. Falling Over on Camera
Everyone has a camera. And they're always out and ready to videotape your latest disaster. So be careful where you're walking, try not to slip and fall, and most importantly, be wary of future embarrassing videos your friends have on their phones.
7. Gross Contact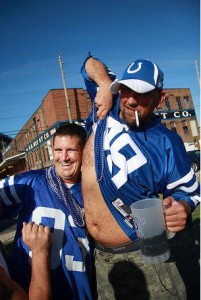 Get that nipple away from the poor man's ear. Please respect each other's personal bubbles when you're tailgating. Life is hard enough already.
8. Bad Face Paint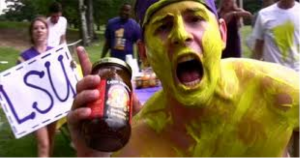 Eek. Mirrors are helpful. This poor fan has missed so many spots he's starting to look a bit like Big Bird! He's got some on his hat as well! That's just not good. Don't forget to wash your hands after you put on face paint, because it will get everywhere!
Bonus: A Tailgating Legend
If you're looking for a good place to tailgate before Super Bowl 50 check out the 2016 Players Super Bowl Tailgate. If you're already pulling out all the stops to have a great Super Bowl experience, don't forget the pregame! Happy tailgating!